DESIGNED BY THE BEST
BAKU WHITE CITY OFFICE BUILDING
SLIDER SAMPLE TEXT
SLIDER SAMPLE CAPTIONS
LOREM IPSUM TEXT
LOREM IPSUM DOLOR SIT AMET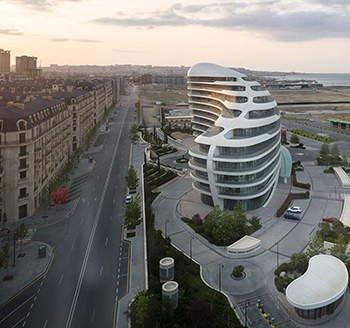 FEATURED
CLASS A OFFICES

The Office Building provides Class A offices with advanced IT system and modern service.

SOUNDPROOF GLASS & AN IMPRESSIVE FACADE

Helping to minimise sound and provide a calm workplace is a 'quiet' wall system that incorporates high-performance double-glazing.

FLEXIBLE FLOOR LAYOUTS

The structural design reduces the total number of columns in each tenant space, providing total flexibility for layouts of individual offices.

PARKING

There is the comfort of underground and street-level parking, with the total number of 350 spaces equating to one parking slot for every 60 square metres of office space.

TERRACES & BALCONIES

Every floor has its own balcony and the five highest levels of the building feature extensive terraces.

BREEAM CERTIFICATE AND SUSTAINABILITY

A fundamental consideration in the office building's development has been the local environment and ecology. The building was assessed for the globally-recognised BREEAM certification.